Words are indispensable even in the face of great tragedies of human life, but they fail to fully capture, particularly for distant observers, the searing experiences of anxiety, trauma, despair, grief, and outrage, of the people of India in this calamitous second wave of Covid-19 outbreak. Despite warnings of this second wave from medical scientists, India's rulers and its ostentatious economic elites, in an appalling absence of forethought and compassion, have failed to organize, support, and regulate basic healthcare and other essential protections and services for its masses even in the face of an unrelenting pandemic. The government's poor public health budget, driven by the social-carcinogenic cult of privatization and private profiteering neo-liberal policies or pressures, has also exacerbated the misery of India's impoverished masses in this crisis. The credit for any alleviation of the vast scale of suffering goes to India's frontline healthcare workers severely challenged by inadequate medical infrastructure and resources. (Thill Raghu)
https://thewire.in/the-arts/parul-khakkar-gujarati-poem-ganga-bodies-covid
BJP Furious as Top Gujarati Poet Blames 'Naked King' Modi for Corpses Floating in the Ganga
Parul Khakkar's poem translated into English by Rita and Abhijit Kothari
"The corpses spoke in one voice : "All is well, sab kuchh changa-changa"
Lord, in your ideal realm the hearse is now the Ganga
Lord, your crematoriums are too few; fewer the wood for pyres
Lord, our pall-bearers are too few, fewer yet the mourners
Lord, in every home Yama performs the dance macabre
Lord, in your ideal realm the hearse is now the Ganga
Lord, your smoke belching chimneys now seek respite
Lord, our bangles are shattered, shattered are our hearts
The fiddle plays while the towns are ablaze, "Wah, Billa-Ranga"
Lord, in your ideal realm the hearse is now the Ganga
Lord, your clothes are divine, divine is your radiance
Lord, the town entire sees you in your true form
If there be a real man here, come forward and say
"The emperor has no clothes"
Lord, in your ideal realm the hearse is now the Ganga."
https://www.wsj.com/articles/india-has-undercounted-covid-19-deaths-by-hundreds-of-thousands-families-and-experts-say-11624795202
India Has Undercounted Covid-19 Deaths by Hundreds of Thousands, Families and Experts Say
According to statisticians, the official death count of 390,000 falls far short of the pandemic's actual toll
India's true pandemic death toll is likely to be well over 3 million, a new study finds
"The number of people who have died in the coronavirus pandemic in India so far is likely to exceed three million — nearly 10 times the official Covid-19 death toll — making it one of the worst human tragedies in the nation's history, according to a new study.
In a comprehensive examination of the true toll of the pandemic in the sprawling nation of 1.4 billion, the Center for Global Development, a Washington research institute, attempted to quantify excess deaths from all causes during the pandemic based on state data, international estimates, serological studies and household surveys.
"True deaths are likely to be in the several millions, not hundreds of thousands, making this arguably India's worst human tragedy," said its authors, one of whom is a former chief economic adviser to the government of Prime Minister Narendra Modi."
Scientists say India government ignored warnings amid coronavirus surge
https://www.reuters.com/world/asia-pacific/exclusive-scientists-say-india-government-ignored-warnings-amid-coronavirus-2021-05-01/
"A forum of scientific advisers set up by the government warned Indian officials in early March of a new and more contagious variant of the coronavirus taking hold in the country, five scientists who are part of the forum told Reuters.
Despite the warning, four of the scientists said the federal government did not seek to impose major restrictions to stop the spread of the virus. Millions of largely unmasked people attended religious festivals and political rallies that were held by Prime Minister Narendra Modi, leaders of the ruling Bharatiya Janata Party and opposition politicians.
Tens of thousands of farmers, meanwhile, continued to camp on the edge of New Delhi protesting Modi's agricultural policy changes."
How India Can Survive the Virus
"When the second wave arrived, only 33 million people, about 2.4 percent of the population, had received one dose and seven million people had received both doses. On May 1, vaccination opened for everyone older than 18 years, but many states have reported shortages and the pace of vaccination has slowed down. Local supplies are expected to stabilize by July, but their low penetration cannot reverse the current wave of infection and death in India.
Covid-19 vaccines mitigate disease, but they may not prevent infection, especially when transmission rates are as high as they are now. Though good data is lacking, variant viruses with evasion potential may also have a role in "breakthrough" infections in vaccinated people.
The immediate need is to reduce spread by increased testing and isolation of people who test positive. Several Indian states are under lockdown. This would "flatten the curve," allowing health care facilities and supplies to regroup. Rapidly enhancing the health care infrastructure will also save lives. India should increase available hospital beds by setting up temporary facilities, mobilize retired doctors and nurses, and strengthen the supply chain for critical medicines and oxygen.
At the same time, India cannot allow the pace of vaccinations to slow. It must vaccinate at scale now, aiming to deliver 7.5 million to 10 million doses every day. This will require enhancing vaccine supplies and doubling delivery points. There are only about 50,000 sites where Indians can get vaccines right now; we need many more. Since only 3 percent of these delivery points are in the private sector, this is where capacity can be added.
All of these measures have wide support among my fellow scientists in India. But they are facing stubborn resistance to evidence-based policymaking. On April 30, over 800 Indian scientists appealed to the prime minister, demanding access to the data that could help them further study, predict and curb this virus.
Decision-making based on data is yet another casualty, as the pandemic in India has spun out of control. The human cost we are enduring will leave a permanent scar."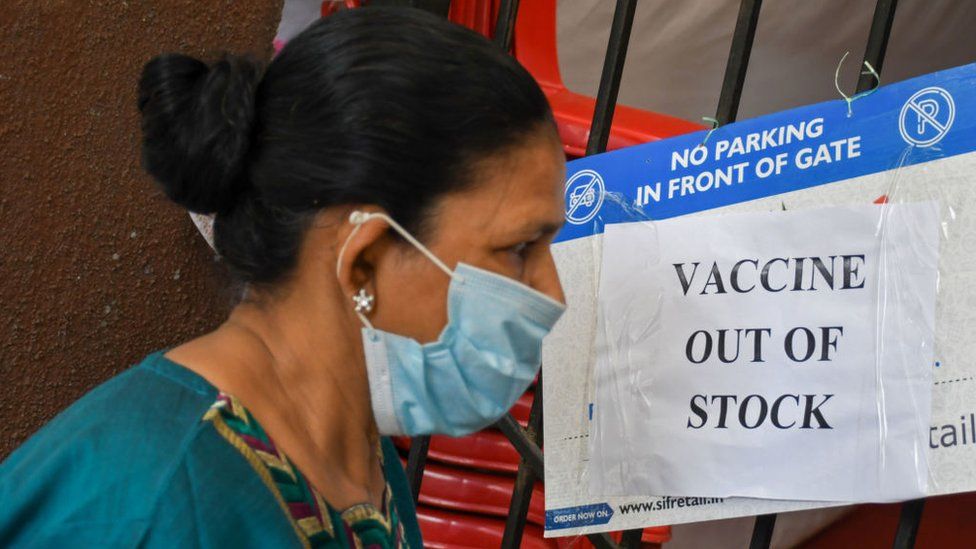 India's Covid vaccine shortage: The desperate wait gets longer
https://www.bbc.com/news/world-asia-india-56912977
"Until now, India's federal government had been the sole purchaser of the two approved vaccines – Covishield, developed by AstraZeneca with Oxford University and manufactured by SII; and Covaxin, made by a local firm Bharat Biotech.
But it's now thrown open the market to not just 28 state governments, but also private hospitals, all of whom can directly negotiate and buy from the two vaccine makers. And they have to pay far more.
The federal government still gets 50% of stocks for 150 rupees ($2; £1.40) per dose, but states have to pay double that, and private hospitals eight times as much – all while competing for the remaining half.
"We are the only country in the world that is allowing sub-national governments to directly buy from vaccine makers. This is not at all well though-out," says Mr Mukhopadhyay.
The different prices are concerning, says Srinath Reddy, a public health expert who advises federal and state governments on tackling Covid-19.
"All vaccination should be free, it's for public good," he says. "And why should states pay a higher price? They are also using tax payer money."
He fears that it's now a "seller's market", where the poorest Indians are likely to be last in line.
The federal government still needs another 615 million doses to finish vaccinating everyone above the age of 45 – about 440 million people. State governments are expected to pick up the tab for 18-44 year olds – there are 622 million of them and they would need more than 1.2 billion doses. Even vaccinating 70% – to achieve herd immunity – would require some 870 million doses. This does not account for wastage, which means more stocks are needed.
To be able to administer all of these doses in the next year, India needs to be giving 3.5 million doses a day – it's behind by more than a million doses right now."
India Makes 7,000 Tons Of Oxygen A Day, So Why Is There A Shortage?
'We are witnessing a crime against humanity': Arundhati Roy on India's Covid catastrophe
https://www.theguardian.com/news/2021/apr/28/crime-against-humanity-arundhati-roy-india-covid-catastrophe
"It's hard to convey the full depth and range of the trauma, the chaos and the indignity that people are being subjected to. Meanwhile, Modi and his allies are telling us not to complain.
"Hospital beds are unavailable. Doctors and medical staff are at breaking point. Friends call with stories about wards with no staff and more dead patients than live ones. People are dying in hospital corridors, on roads and in their homes. Crematoriums in Delhi have run out of firewood. The forest department has had to give special permission for the felling of city trees. Desperate people are using whatever kindling they can find. Parks and car parks are being turned into cremation grounds."
India's Modi scorned over reckless rallies, religious gathering amid virus mayhem
https://www.reuters.com/world/india/indias-modi-scorned-over-reckless-rallies-religious-gathering-amid-virus-mayhem-2021-04-19/
In India's devastating coronavirus surge, anger at Modi grows
https://www.washingtonpost.com/world/2021/04/29/india-coronavirus-modi/
"As coronavirus cases skyrocketed, Modi continued to hold huge election rallies and declined to cancel a Hindu religious festival that drew millions to the banks of the Ganges River, despite pleas from health experts.
Rather than making urgent preparations for a second wave of cases in an already weak health-care system, the government put much of its focus on vaccinations — a campaign too limited to blunt the oncoming disaster. The government repeatedly chose self-congratulation over caution, publicly stating that the pandemic was in its "end game" in India as recently as last month."
India's Covid crisis is mostly Modi's fault
"PM Modi's failure to take the pandemic seriously has resulted in what could be the world's worst-yet Covid-19 catastrophe.
It is difficult to overstate the grip Covid-19 has on India. WhatsApp bristles with messages about this or that friend or family member with the virus, while there are angry posts about how the central government has utterly failed its citizenry.
This hospital is running out of beds and that hospital has no more oxygen, while there is evasion from Prime Minister Narendra Modi and his cabinet.
Thirteen months after the World Health Organization (WHO) announced that the world was in the midst of a pandemic, the Indian government looks into the headlights like a transfixed animal, unable to move.
While other countries are well advanced on their vaccination programs, the Indian government sits back and watches a second wave or a third wave land heavily on the Indian people.
The consequences of turning over health care to the private sector and underfunding public health have been diabolical. For years now, advocates such as the Jan Swasthya Abhiyan have called for more government spending on public health and less reliance upon profit-driven health care. These calls fell on deaf ears.
India's governments have spent very low amounts on health – 3.5% of GDP in 2018, a figure that has remained the same for decades. India's current health expenditure per capita, by purchasing power parity, was US$275.13 in 2018, around the same as Kiribati, Myanmar and Sierra Leone. This is a very low number for a country with the kind of industrial capacity and wealth of India.
Late last year, the Indian government admitted that it has 0.8 medical doctor for every 1,000 Indians, and it has 1.7 nurses for every 1,000 Indians. No country of India's size and wealth has such a small medical staff."
'Apocalyptic' second wave of COVID-19 in India leaves families hunting for oxygen
https://www.usatoday.com/in-depth/news/world/2021/04/30/india-covid-19-crisis-oxygen-scarce-bodies-burning-through-night/7410583002/
"India reported 386,000 new COVID-19 cases Friday – a global daily record. Hospitals are running out of beds. Crematoriums are burning bodies through the night. With oxygen in short supply at medical facilities, patients are gasping for breath, and their families – overwhelmed by grief and helplessness – are running frantically to obtain oxygen themselves."
Covid-19: Delhi hospitals run out of oxygen supplies
https://www.bbc.com/news/world-asia-india-56851265
"At least two hospitals in the Indian capital of Delhi are running out of oxygen, amid a healthcare crisis gripping several states.
A number of people have died while waiting for oxygen supplies, and the majority of intensive care beds in Delhi hospitals are full."
Rallies, religious gatherings aggravate India's worst COVID surge
https://www.aljazeera.com/news/2021/4/9/rallies-religious-gatherings-aggravate-indias-worst-covid-surge
"Election rallies led by Modi and other politicians as well as crowded festivals and religious gatherings contribute to the second wave."
Non-stop cremations cast doubt on India's counting of COVID dead
https://www.aljazeera.com/news/2021/4/20/non-stop-cremations-cast-doubt-on-indias-counting-of-covid-dead
"Several major cities are reporting far larger numbers of cremations and burials under coronavirus protocols than official death tolls.
Gas and firewood furnaces at a crematorium in the western Indian state of Gujarat have been running so long without a break during the COVID-19 pandemic that metal parts have begun to melt.
We are working around the clock at 100 percent capacity to cremate bodies on time," Kamlesh Sailor, the president of the trust that runs the crematorium in the diamond-polishing city of Surat, told the Reuters news agency."
India's Covid-19 Surge Spreads Rapidly Beyond New Delhi, Mumbai
https://www.wsj.com/articles/indias-covid-19-surge-spreads-rapidly-beyond-new-delhi-mumbai-11619634804
Five states including Uttar Pradesh account for about 35% of the country's active coronavirus cases
"The Covid-19 outbreak that has overwhelmed hospitals in New Delhi and Mumbai is spreading to states across India, as the world's fastest-growing Covid-19 surge shows no signs of slowing.
The country hit a new global high for the pandemic on Wednesday reporting more than 360,000 new daily cases. It recorded 3,293 deaths, the highest single-day toll for the country.
New Delhi and Maharashtra, the state that is home to the country's financial capital of Mumbai, account for about a quarter of India's three million active cases. But cases are now rising fast elsewhere—in some of India's largest and most populous states, including Uttar Pradesh, West Bengal, Tamil Nadu, Karnataka and Kerala. Those five states, with a combined population of over 500 million, now account for about 35% of the country's active cases.
In the southern state of Kerala, the number of new cases being reported has risen to more than 30,000 a day, from around 13,000 two weeks ago. Hospitals there are beginning to see some of the same strains as those in New Delhi and Mumbai."
The Modi Surge: COVID-19 Cases Overwhelm India's Healthcare System as Gov't Censors Critics
https://www.democracynow.org/2021/4/29/india_covid_19_crisis
"India has topped 18.3 million COVID-19 cases, after adding 1 million cases in just the past three days amid shortages in vital supplies and overwhelmed hospitals across the country. Makeshift mass cremation facilities have been set up in parks and parking lots, with rows of bodies being burned on funeral pyres. With hospitals overflowing, some patients have been turned away and left to deal with their infections on their own."
India's COVID-19 Catastrophe Causes Black Market Boom
https://www.esquiremag.ph/money/industry/coronavirus-india-black-market-a00304-20210429
"Indians are turning to the black market to save lives of loved ones.
According to a BBC investigation, essential medical supplies are being sold for over 100 percent and more on the black market. A typical $80 five-liter oxygen cylinder is being sold for a whopping $1,330 on the black market, which in India could be equivalent to four months of family savings."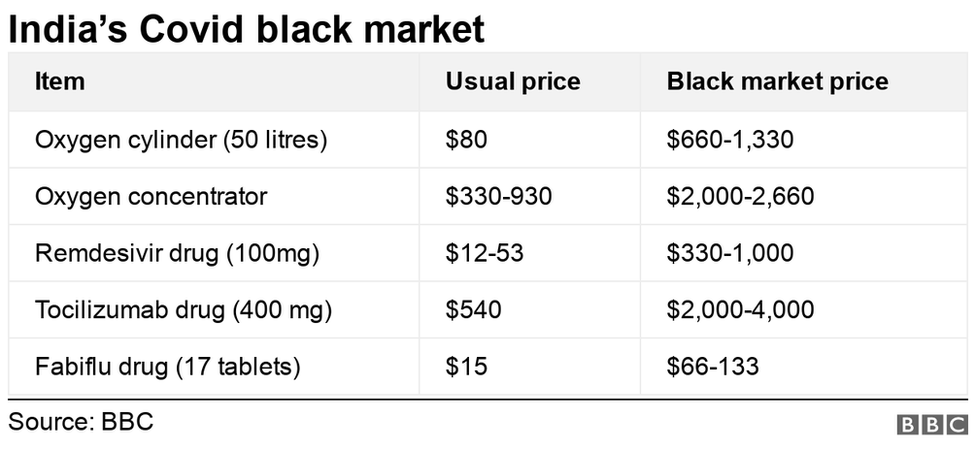 India's Covid fraudsters selling fake drugs and medical supplies – BBC News