Update on Brandon Lee's condition in the Philippines
https://www.youtube.com/watch?v=b22gBCp3HZ8
"San Francisco Supervisor Matt Haney reports that activist Brandon Lee is able to breathe on his own, is conscious and responsive. Haney is calling on more support from the U.S. government and federal representatives to ensure Lee's safety."
According to Matt Haney (in the YouTube video clip):
"(Brandon Lee) shares the room with five other people. There have been unknown individuals who have tried to gain access to his room. There are police and military who come around on a regular basis in a way that is concerning and threatening to Brandon and his family and he is not being protected currently. It is shameful that a U.S. citizen is out there in this situation, currently under threat and not being fully protected by the Philippines government or let alone adequately by the American government. There is a pattern of targeted assassinations from the Philippines government and tens of thousands of Philippine residents have been killed and now we have an American citizen who has been a victim and that should lead to immediate and urgent action to protect him and to demand an investigation."
https://uwpress.wisc.edu/books/4454.htm
Thanks to the scholarly work of Alfred McCoy, we now know that the U.S. designed and installed highly repressive modern police and intelligence state units as integral parts of its colonial regime in the Philippines, a precursor to the state surveillance system in the U.S. itself ("what goes around comes around", or a case of "the chickens coming home to roost" as Malcolm X would have quipped), and elsewhere in the world, and a legacy which survives to this day in dictator Duterte's "government" largely responsible for the ongoing murders and human rights abuses committed in the name of a horrendous "war on drugs".
As Noam Chomsky points out in his review of McCoy's book:
"This remarkable study provides a meticulous analysis of the novel colonial system developed by the U.S. in the Philippines after the murderous conquest, with startling implications for the shape of the modern world. As McCoy demonstrates, the U.S. occupation developed a major innovation in imperial practice, relying on the 'information revolution' of the day to establish intense surveillance and control of the occupied population, along with violence when needed and privileges to obedient elites. This 'protracted social experiment in the use of police as an instrument of state power' left a devastating legacy for the Philippines, while also contributing substantially to the modes of suppression of independence and social change elsewhere, and returning home to lay the foundations for a national security and surveillance state."
We see a further instantiation of this horrible U.S. colonial legacy in the Philippines in the recent attempt of dictator Duterte's gang to murder the American environmental activist Brandon Lee who was working with the Ifugao Peasant Movement.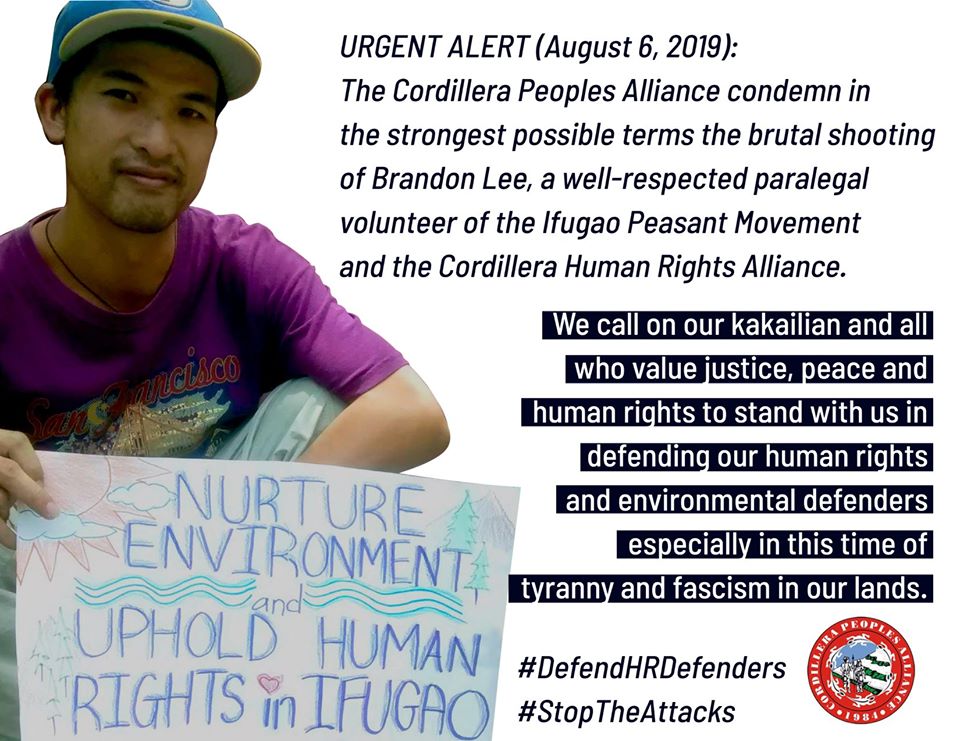 https://www.scmp.com/news/asia/article/3021944/us-human-rights-volunteer-branded-enemy-state-shot-outside-home
US human rights volunteer branded an 'enemy of the state' shot outside home in Philippines
"An American human rights volunteer tagged an "enemy of the state" on social media in the Philippines has been shot four times outside his home.
Brandon Lee, 37, who is married to a Filipino woman, is in a critical condition after the shooting in Ifugao province in the northern part of the country on August 6."
https://www.democracynow.org/2019/9/4/journalist_brandon_lee_shot_in_philippines
U.S. Journalist & Activist Brandon Lee Shot in Philippines After Being Called "Enemy of the State"
"American journalist and indigenous and environmental rights activist Brandon Lee remains in critical condition in the Philippines more than four weeks after being shot multiple times outside his home in the northern region of the country in early August. Lee was shot at least four times in the back and face on August 6 in what his family and advocates say was an attempt by the Philippines government to kill him.
Brandon Lee is a Chinese American born and raised in San Francisco, but he has spent the last decade in the Philippines, where he has a wife and young daughter. He is a correspondent for the weekly newspaper Northern Dispatch and an activist with local peasant, indigenous rights and environmental organizations.
Lee's editor at Northern Dispatch told the Committee to Protect Journalists that he has been targeted for this work since 2015, facing relentless surveillance from President Rodrigo Duterte's government."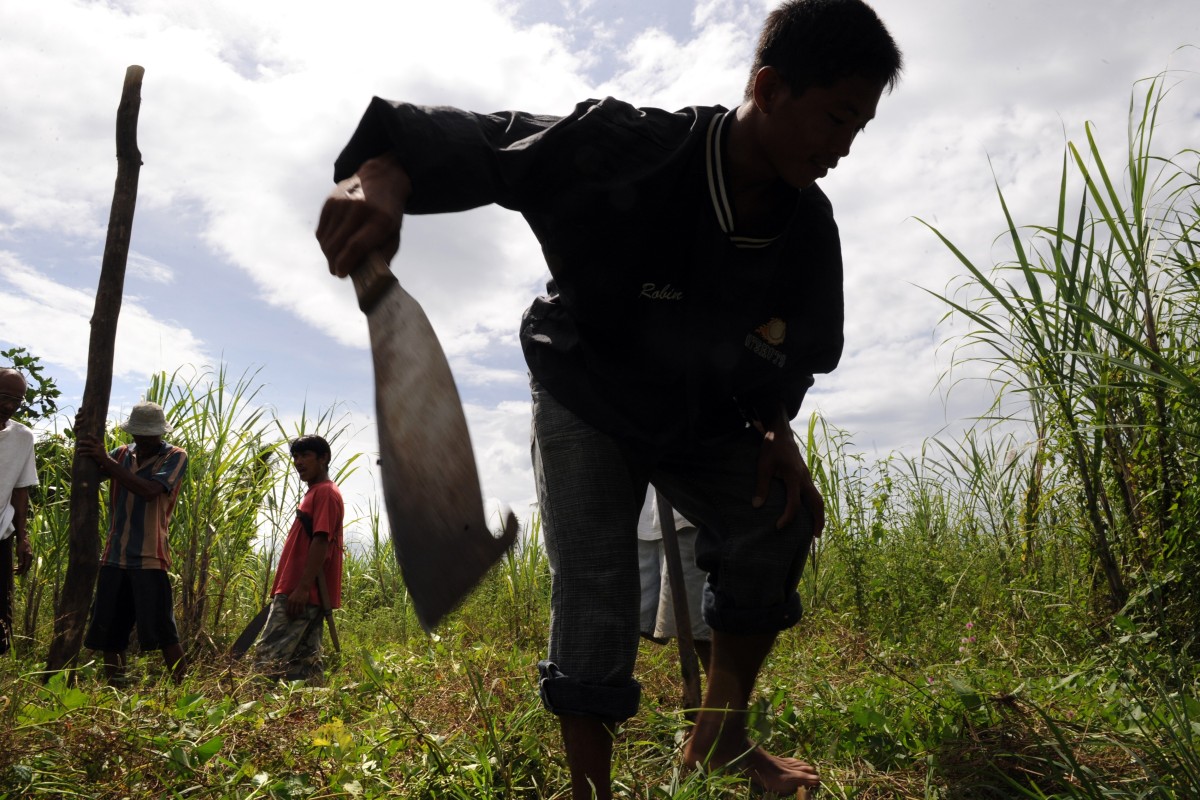 https://www.scmp.com/news/asia/southeast-asia/article/3020587/how-farming-turning-deadliest-profession-philippines
Philippines is now world's deadliest country for land rights activists
"Nearly 300 farmers, indigenous people and land rights activists have been killed since Duterte took office in 2016, according to Philippine human rights groups.
"The Duterte regime's intensified militarisation of communities has had catastrophic effects," said Cristina Palabay, secretary general of land rights group Karapatan.
"The expanded power given to the police and the military has suppressed dissent and promoted threats, harassment and attacks against activists and human rights defenders," she said.
Earlier this month, the United Nations human rights agency passed a resolution to investigate the mass killings during Duterte's war on drugs, which human rights groups say has also been used against farmers and activists. "
"Much of the persecution of land defenders is being driven by demand for the land and raw materials needed for products we consume every day, from food to mobile phones, to jewellery," said Alice Harrison, a campaigner at Global Witness.
"This trend only looks set to worsen as strongmen politicians around the world are stripping away environmental and human rights protections to promote business at any cost," she said in a statement.
After the Philippines with 30 victims, Colombia had 24, followed by 23 in India and 20 in Brazil."